Medication Guide for a Safe Recovery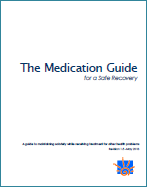 Many people who suffer from addiction get back into trouble with their addictive disease because they unwittingly use medications that "wake up the sleeping dragon" -- their addictive disease. It is the responsibility of all recovering individuals and for their physicians and therapist to understand the danger in various prescribed drugs and over-the-counter medications pose to recovering individuals. Prepared by several experts in the field, this invaluable guide meets this need.
This is the latest revision (Version 1.7, March 2014) of Dr. Earley's Medication Guide used by thousands of recovering individuals across the globe. It has been hailed as "An Invaluable Tool for the Recovering Addict or Alcoholic" This version removes typographical errors and improves formating. If you currently have a version of the Medication Guide that is less than 1.7, please discard it and download the latest version which is Revision 1.7.