By Anonymous 199315 downloads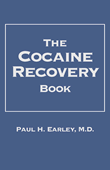 This is chapter three from Dr. Earley's classic book on Cocaine Addiction. Originally published in 1991, the book describes the dilemma of cocaine addiction, the traps cocaine addicts fall into and, most importantly, a way out. Designed to be used as part of a larger addiction recovery program, this book gently guides the addicted patient through the course of recovery. Dr. Earley has a companion text The Cocaine Recovery Workbook that provides meaningful exercises for a solid recovery.
If you find this chapter useful, you may want to purchase the entire book. It is available for purchase online by clicking here. Please contact us directly for bulk orders.